Song Kim, Co-founder and COO of KovaDx (Adam Lau, Berkeley Engineering)
The inaugural cohort of the Health Technologies Collaborative Laboratory revealed its healthcare innovations on May 4, following a semester of ideating, breakthroughs, and collaborations.
The student teams demonstrated a wide variety of health tech innovations — from a device enabling four patients to safely share one hospital ventilator to a nanotechnology-based hardware with a variety of sensors that can record a patient's medication usage in real-time. A packed crowd at the Health Tech CoLab, headquartered at UC Berkeley's Blum Hall, included faculty, industry representatives, and notable Bay Area VCs.
"Over time, we've gotten connected to a lot of experts out there, and I think we have found that this problem is really not as simple as we initially thought," said Prarthana Prashanth, a student in Berkeley and UCSF's master of translational medicine program and a member of Materniti, a CoLab team that found that few new mothers receive adequate screening or support even though one in seven women experience postpartum mood disorder. The result — Materniti — is a scalable care model consisting of informal, expert-led group sessions, in which new mothers gain access to both clinically accurate information and peer-to-peer social interaction.
"It wouldn't have been until we worked through the process here at the CoLab to figure that out," Prashanth added. "We've conducted a lot of customer discoveries so far, introduced key opinion leaders to really figure out what are all the problems and how do we solve for them. And so now we have a much better idea of how we sit in the market as compared to our competition."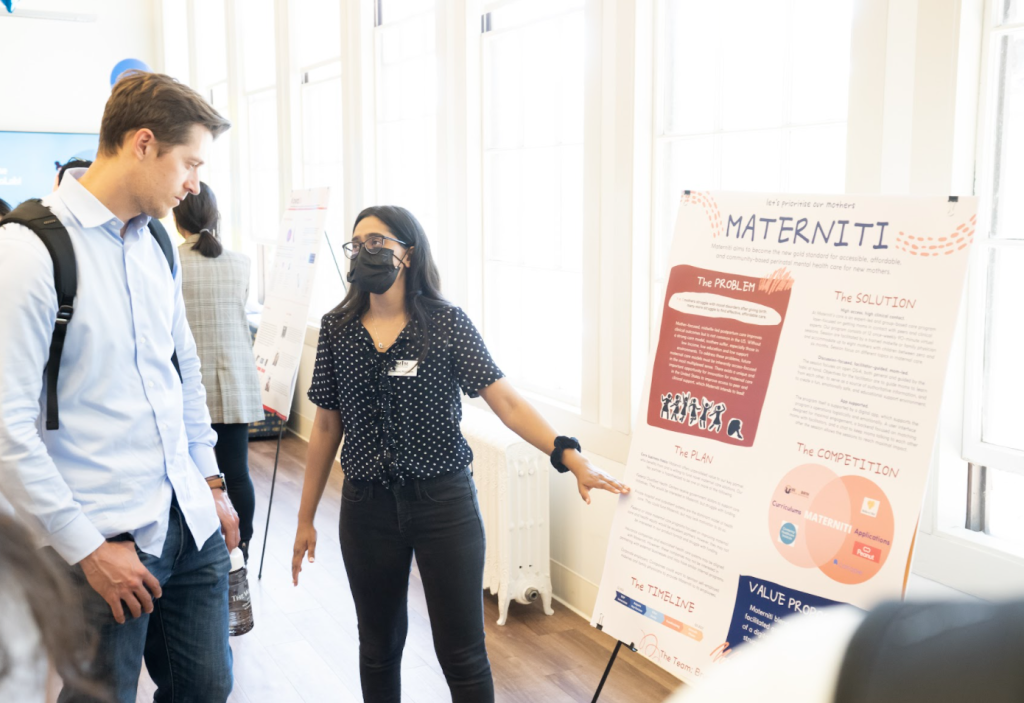 Prarthana Prashanth from Materniti (Adam Lau, Berkeley Engineering)
Launched last fall and housed at UC Berkeley's Blum Center for Developing Economies, the CoLab is a collaboration space to advance the development of medical devices to facilitate better healthcare. It aims to help entrepreneurs close the data and information gap between innovators and industry, paying particular attention to improving lives in low-resource regions.
In addition to an in-person and virtual space for undergraduate, graduate, and faculty teams to harness their human experiences, trade stories, and start dialogues, the CoLab hosts workshops and prestigious speakers, and is a place for teams and industry to connect and share each other's know-how. The CoLab's supporters include the Harvey and Leslie Wagner Foundation, Mitsuru and Lucinda Igarashi, former Vodafone CEO and Blum Center trustee Arun Sarin, and the lab's inaugural corporate partner, HCL Technologies.
"These teams arrived at the CoLab with already-impressive ideas, if not early prototypes," said Dan Fletcher, the CoLab's director, a professor of bioengineering, and the Blum Center's incoming faculty director. "The cross-pollination, the lab learnings, the refining of these promising innovations have really produced some projects and startups with a lot of potential to make an impact in their respective fields."
Six student teams were chosen as the Health Tech CoLab's inaugural cohort:
"We hadn't gotten very far before we came into the CoLab, even though our project is two semesters long," said Andrew Flach, a master of engineering student studying mechanical engineering and a member of Ocuelar. "The first semester, we didn't really have the space to work in; we were doing everything on our own. We were very initial-stage. But as soon as we came into the CoLab, it expedited our process. We were able to finish it out in one semester, actually. It cut our time down in half."
The benefits of a collaborative networking space extend beyond just speeding up the development of an innovation.
"When I joined the CoLab, my project was very different than it is now," said Abigail Woolf, a master of development engineering student leading Examine It. "I've developed it a lot more. I've mainly been ideating. I've done a lot of planning, and with the help of [CoLab manager] Karenna [Rehorn] as a sounding board, I've made it very far from my original idea and pivoted in major ways that I never would've thought would happen. I'm much more satisfied with this than I was with my prior project."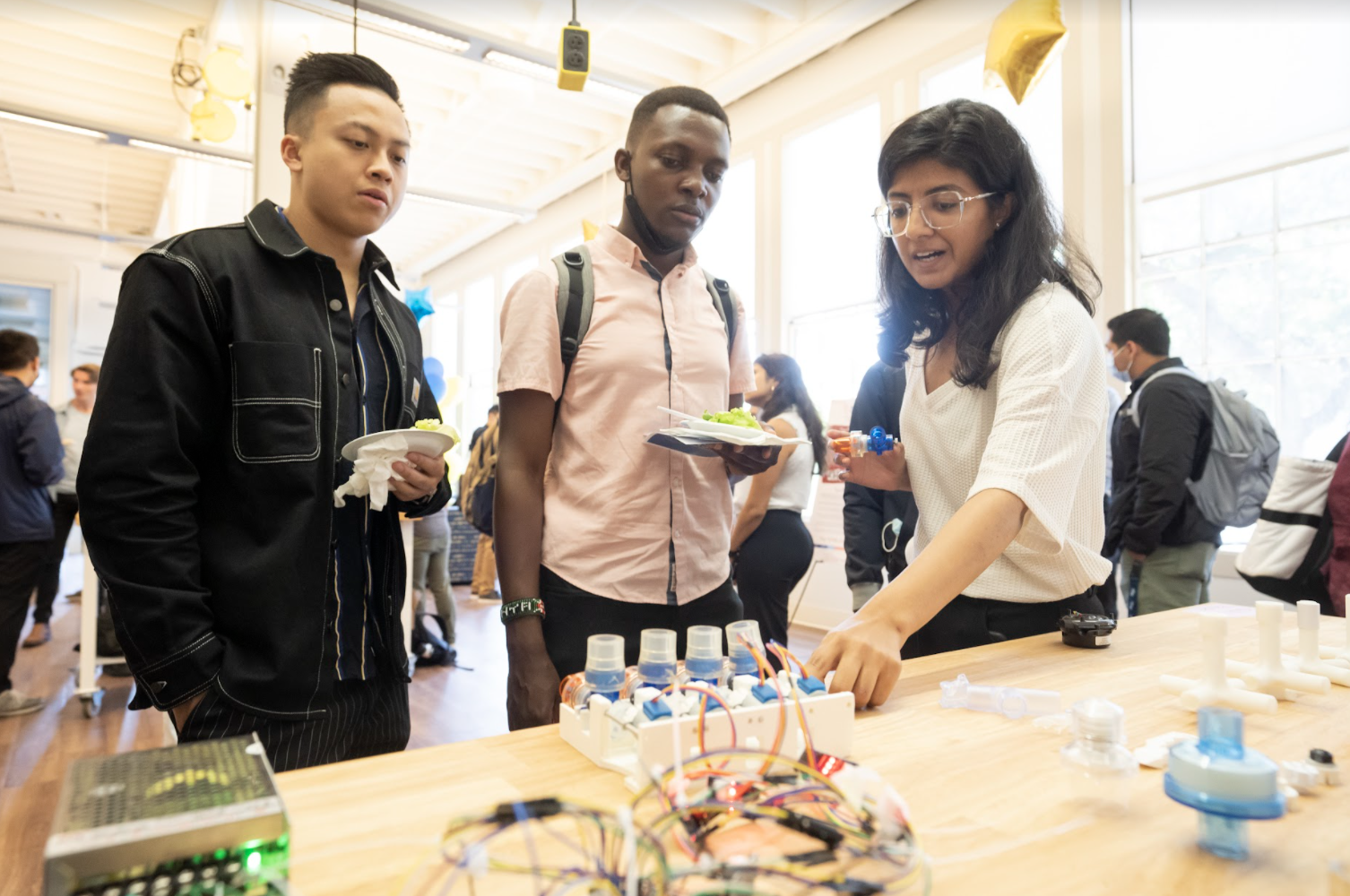 Priyanshi Porwal from Prana Medical (Adam Lau, Berkeley Engineering)
Written by Sam Goldman, May 2022